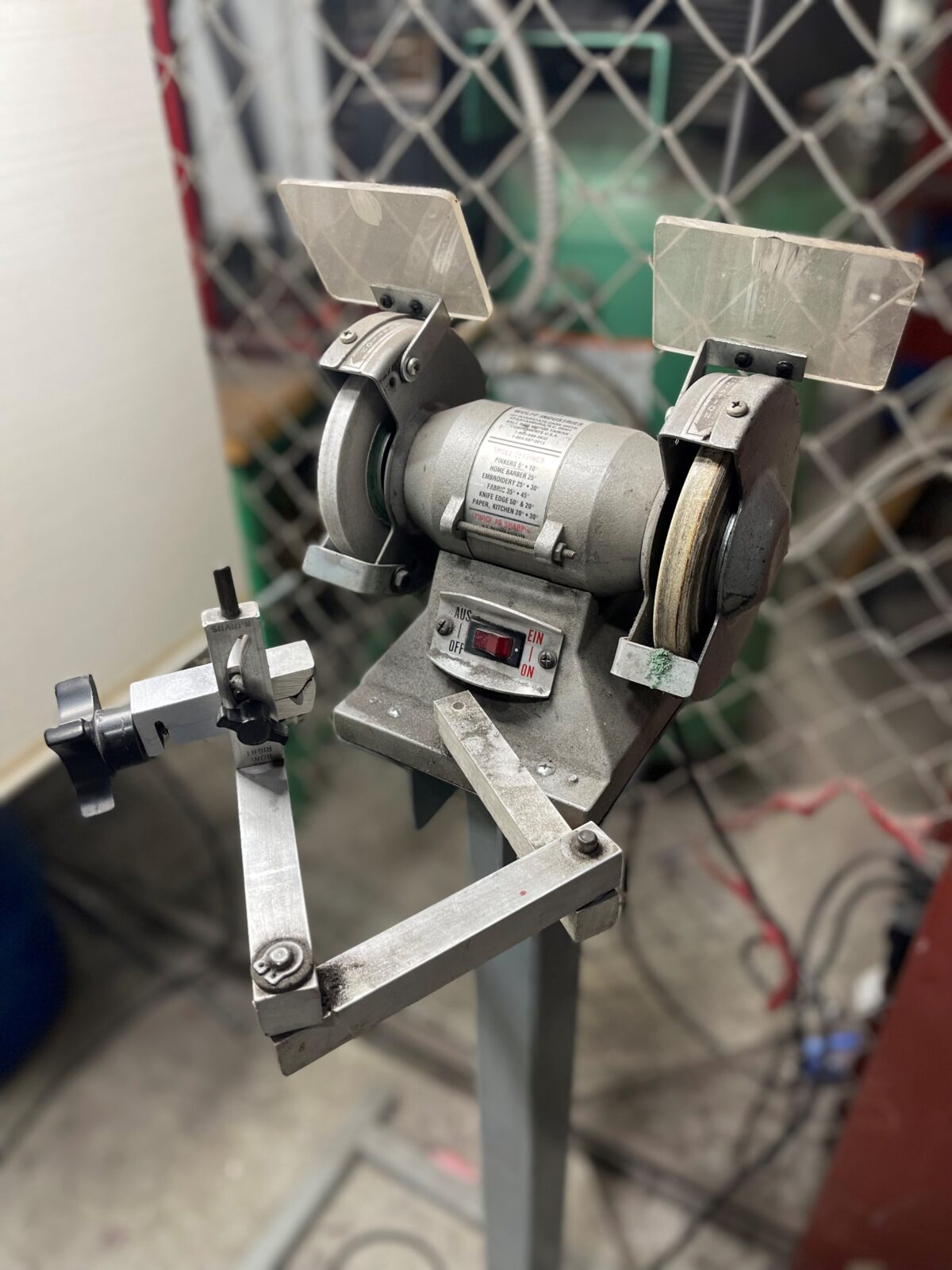 First, what the heck is that in the picture above? Read on… we'll get to that.
Effectively managing limited resources is the hallmark of a successful business. If you've successfully navigated the last few years, congratulations! You have managed limited resources effectively.
When it comes to limited resources, we are always asking ourselves how can we do better? Without establishing a windfarm or solar farm, for example, how can a small manufacturer work to conserve natural resources? At W.F. Lake Corp., we've already made all the obvious moves, including increased insulation, sealing off air leaks, new and more efficient motors and drives, recapturing excess heat, LED lighting, recycling, etc…
So, how else can a small manufacturer of PTFE coated fiberglass products contribute to better outcomes? How about focusing more keenly on something that successful manufacturers have been doing all along… re-use, re-cycle, re-pair, re-capture.
As you may have read in my post on shops, we have always had our own fabrication and maintenance shop. We intimately understand all the maintenance and repair needs of each unique piece of equipment we own. When we do take a piece of equipment off-line, we will break it down carefully and hang onto any parts that can be used as spares in other equipment.  Even the steel, for example, gets used again if it makes sense to keep it. Re-use beats recycle every time (and what doesn't make sense to salvage goes to the recycler, of course). Rebuilding an electric motor and placing it in "spares" saves lots of resources… think of the energy, landfill space, transportation fuels, etc., that are NOT consumed when a simple rebuild / re-use happens.
We also take care to optimize the use of energy in our operations. Producing PTFE coated fiberglass products (including PTFE coated fiberglass sewing threads, fabrics, adhesive tapes, and PTFE coated fiberglass belts) requires heat.  We are fortunate to have clean and abundant natural gas available as an energy source for our coating operation. By moving air thoughtfully throughout the facility and recapturing heat, we rarely need to run the overhead heaters here in our cold Northern New York winters. We conserve lots of this limited natural resource by making the most of what we do consume.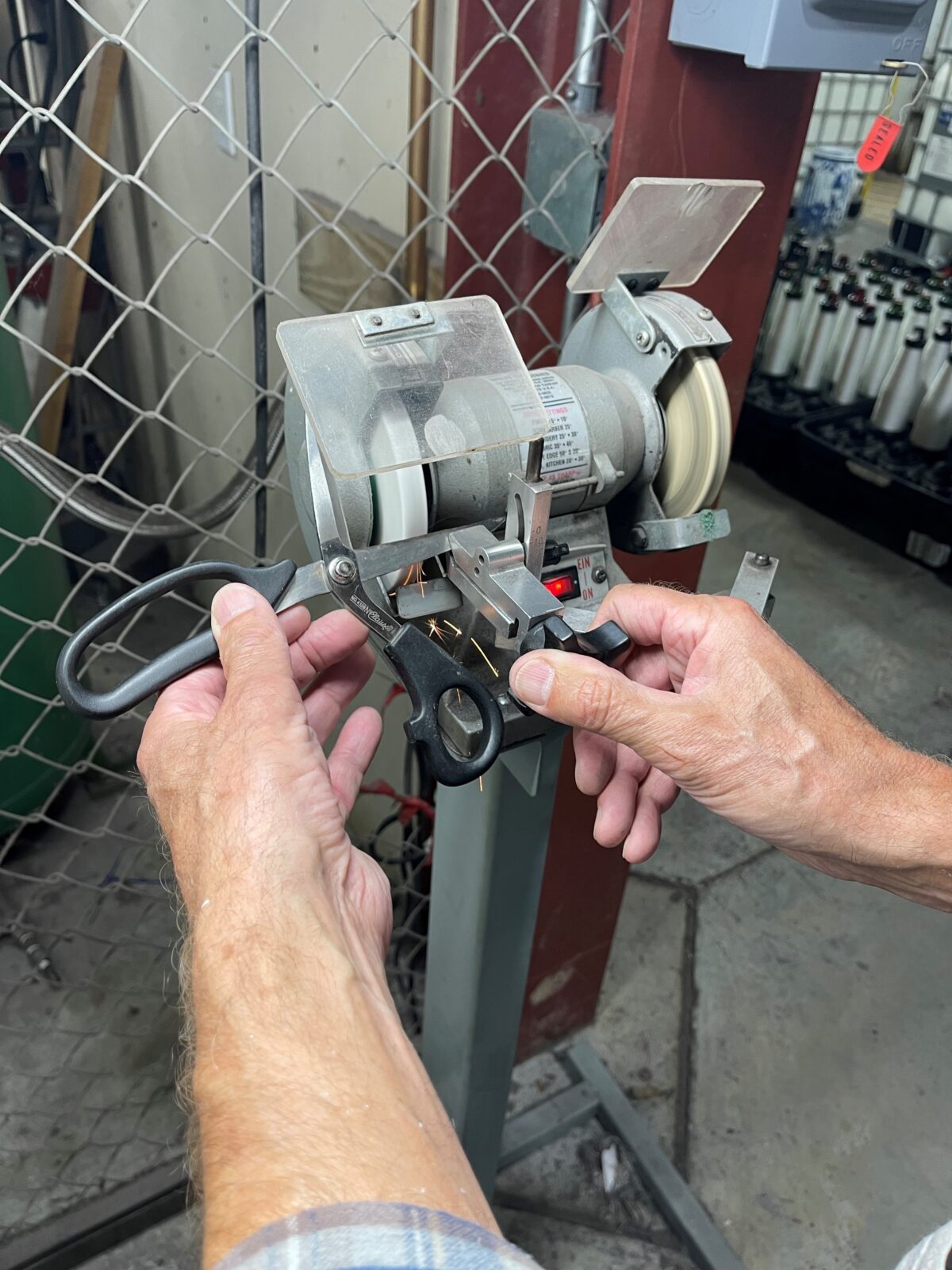 So, what about that picture? It's a scissors sharpener! A very cost effective/green activity is simply sharpening scissors rather than throwing them in the recycle bin.  As mentioned, we manufacture a wide variety of PTFE coated fiberglass sewing threads, PTFE coated Kevlar* sewing threads and PTFE coated fiberglass yarns.  You can imagine how often we use scissors here and how tough fiberglass and Kevlar* are on the cutting edges. Tossing dull scissors in the recycle bin is neither "green" nor cost effective.  Sharpening scissors in-house makes sense from a "green" standpoint and a financial standpoint.  It may seem inconsequential but keeping small items out of the landfill or recycle bin adds up over time.
Manufacturers have particular interest in being as efficient as possible in their every-day operations. Whether from the standpoint of shop / office supplies, raw materials, or energy, being efficient leads to "greener" outcomes every day. To do otherwise will not only adversely affect the environment, but it will also mean you aren't going to survive very long as a viable business.