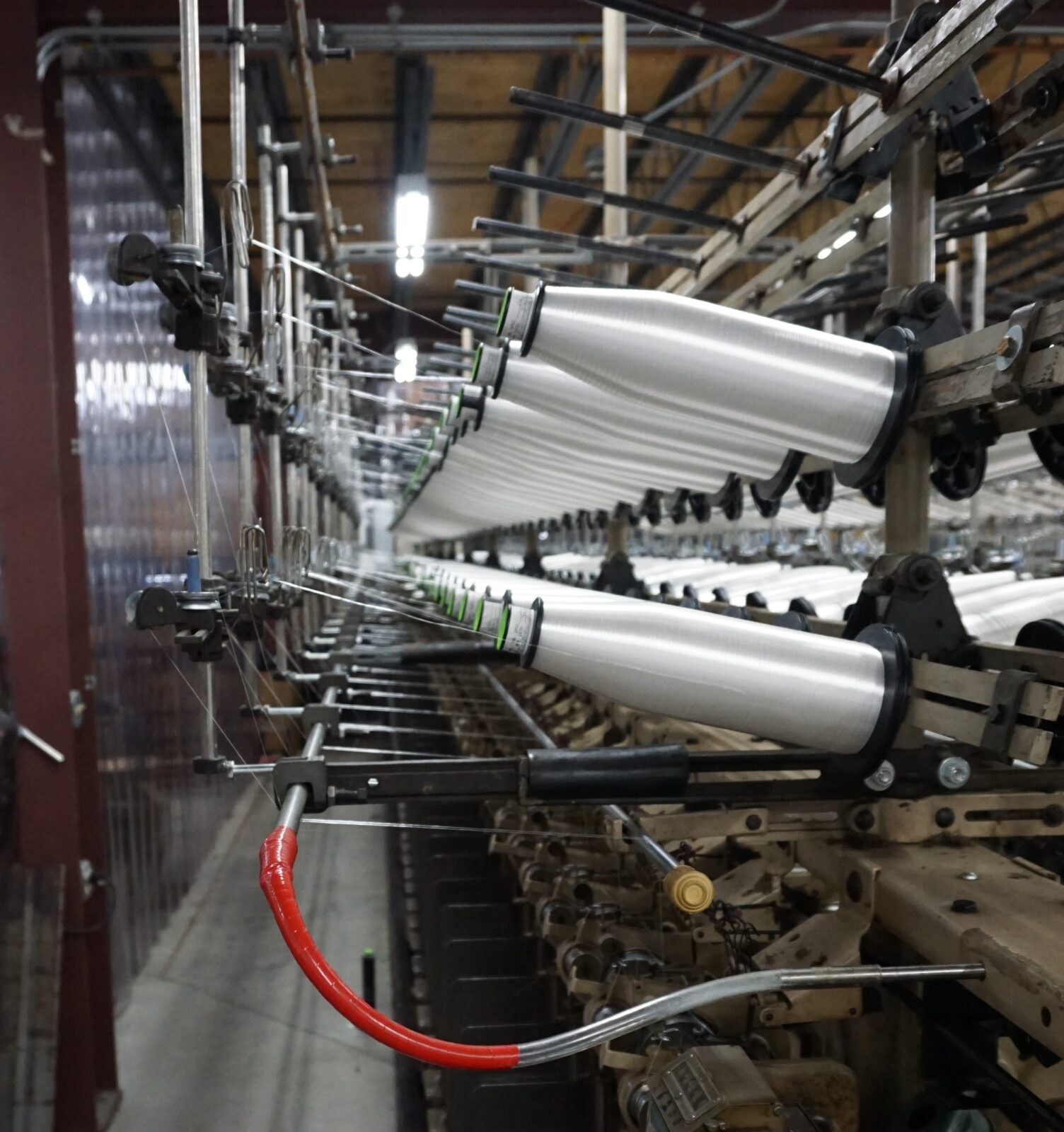 What drives new product development for a relatively small manufacturing business? In our experience, the bulk of new product development flows from existing customers' needs.  In the case of W.F. Lake Corp., our ability to bring our many and diverse capabilities to bear are what lead to our successes with new product development (and therefore future growth). Equally important is the ability and desire to get samples into engineer's hands as quickly and cost effectively as possible. In some cases, these new products are developed for a single application and remain in limited use.  In other cases, those unique properties required for a specific application are useful in a wide variety of other areas and, voila! We have a new product in our standard offering.  Many of our PTFE coated fiberglass sewing threads and PTFE coated Kevlar sewing threads came about in this fashion.
But how did we come to have these capabilities in house?  For W.F. Lake Corp., it started early on with the philosophy that sensible vertical integration not only cuts down on supply chain issues, but also leads to synergies across many disciplines.  It gives us the unique ability to control scheduling of trials, use the varied raw material in our inventory and adjust processing parameters quickly. 
Of course, keeping the lines of communication open with customers and letting them know of your capabilities and willingness to work on development ideas is of utmost importance.  Customers must also feel that finding a solution to their needs is as important to us as it is to them!
A few years ago, we were asked to come up with a high temperature thread with a "fail-safe" built in for possible temperature excursions.  We came up with the idea of combining S-2 fiberglass with 3 ends of Inconel wire that would then be PTFE coated. We were already producing sewing thread with E-glass and stainless steel wire, so this wasn't much of a reach for us.  Our ability to twist fiberglass threads in-house, and also PTFE coat them in-house, resulted in SGT-243IL being developed within a few weeks. Final approval came quickly and now this thread has become a standard item being regularly produced. 
Another example is as simple as offering a pigmented PTFE coated fiberglass sewing thread to enhance the visual appeal of a finished insulation jacket.  It happens that we run various pigments in other areas of our operation (PTFE coated fiberglass yarn and PTFE coated fiberglass fabric) and were able to choose the right pigment from our stock, enabling samples to be delivered within days. The resulting Black PTFE coated fiberglass sewing thread is also now a standard product.
We apply these same principles across all product disciplines, including  PTFE coated fiberglass fabrics and PTFE coated fiberglass belts, where we coat, slit, sew, heat seal, sheet, and fabricate a variety of products.  Combining those capabilities has resulted in some unique products that solve interesting processing requirements resulting in Custom Materials.
If you have an opportunity that requires a unique high temperature PTFE coated sewing thread, draw cord, fabric or belt or any combination thereof, zing us a note or call.  We stand ready to put our capabilities to work quickly and cost effectively for your needs.